Jurassic World: Fallen Kingdom- It stumbles but eventually gets up!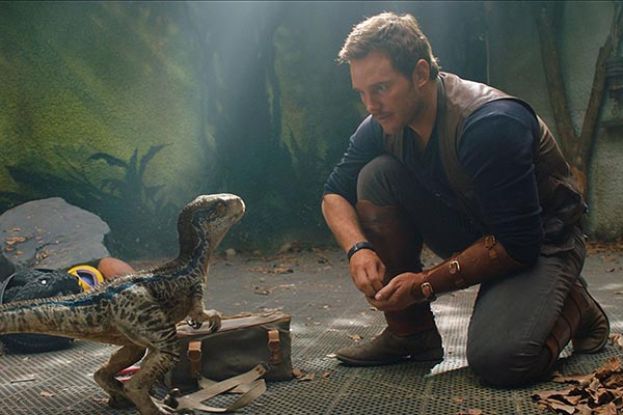 Photo Courtesy of Universal Pictures
Chris Pratt returns to the Jurassic World Theme Park in Jurassic World: Fallen Kingdom
The Jurassic World Theme Park has been closed for four years to the public but the dinosaurs thrive on Isla Nublar without paying onlookers. Owen (Chris Pratt) and Claire (Bryce Dallas Howard) return to the island when a volcano threatens to end all life there. Owen is especially concerned about Blue, the raptor he bonded within the last Jurassic edition.
While saving the prehistoric creatures from a threat from nature, Owen and Claire learn of manmade threats to destroy the animals completely and another which would exploit them for financial gain.
Jurassic World: Fallen Kingdom struggles to develop underlying plotlines when the entire purpose of these films is to showcase the dinosaurs. The stories are weak, predictable and plagued by a number of "coming out of nowhere rescues" by both humans and creatures.
Returning stars, Chris Pratt and Bryce Dallas Howard, add stability and familiarity to the film. But among the human cast, the real star is young Isabella Sermon, who plays Maisie Lockwood, whose grandfather, Benjamin helped create the dinosaur-cloning technology. Isabella is amazing!
For cast diversity, Jurassic World: Fallen Kingdom gets a B+. One of the featured stars, in addition to Pratt and Howard, is a young black actor, Justice Smith playing Franklin, a nerdy, easily frightened, computer tech. There are also other people of color in supporting and minor roles.
Ultimately, the Jurassic Park Series is about the special effects and the Jurassic World: Fallen Kingdom doesn't disappoint. And that's enough to garner a "See It!" rating.
The film is PG-13 for intense sequences of science-fiction violence and peril and is 129 minutes in length.

Jurassic World: Fallen Kingdom also hints at the next film in the series.