Are Ming Lee and Swae Lee a Couple in the Making? [What's The 411 | Relationships]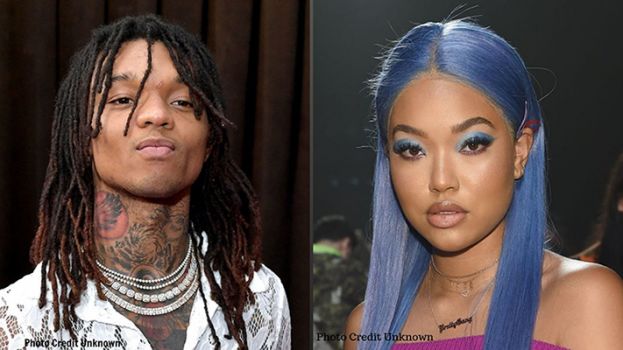 Photo Credit Unknown
Rapper, singer, and songwriter, Khalif Malik Ibn Shaman Brown, PKA, Swae Lee (left) and Ming Lee Simmons, daughter of hip-hop mogul, Russell Simmons and Kimora Lee Simmons, are rumored to be dating on the low.
VIDEO DISCUSSION: Will Marliesia Ortiz, who got into on social media with Aoki Lee, Ming's little sister, eventually be the odd woman out?
Keisha: So we're going to move from bridezillas and familyzillas and we're going to talk about hip hop royalty. Microphone check one, two. I don't know why I said that.
Kizzy: You are on today. Bring it home, Keisha, bring it home.
Keisha: I'm just going to reel it back in. We're going to talk about Russell Simmons and Kimora Simmons, child, children, Ming Lee, who appears to be dating rapper Swae Lee, which has set off his on-again, off-again, girlfriend Marliesia Ortiz to the point that Ming's little sister, Aoki Lee, came through with the clap backs on social media letting people know Marliesia, in particular, that she does not want to tangle with her or her mother. Oh yes.
Onika: The mother's getting involved too? Come on.
Keisha: I mean she can, she can jump in.
Kizzy: Yeah, she can.
Onika: I don't think I'd jump in, I'd just let the sisters handle it, those girls got it.
Kizzy: Yeah, I think it's kind of, yeah, whatever. Um, I don't know. I don't know. I mean I think when you grow up rich and famous as they have, you will find yourself in these types of situations. I mean, even though I haven't …
Onika: They all gotta like to mess with each other. The pool is small. Yeah, because there's a bunch of broke dudes.
Kizzy: And, you don't, you don't need that. You don't because they just might want to be with you because they want to get put on, they want your money. They want to be around that.
Onika: People in this circle have money.
Kizzy: That's what I'm saying. So you don't, again, you only have a few people that you can actually date and so it would make sense if she's in a circle and Swae Lee is there. We know their eyes meet, their hearts touch, there they go.
Onika: Their last names are Lee, right? That's a bunch of Lees, right? Bruce Lee, I don't know.
Keisha: Do you think that because Ming comes from hip-hop royalty, legendary, her dad is Russell Simmons. Her uncle is Reverend Run of Run DMC. Do you think that dating someone like Swae Lee is above her status (meant below her status)? Why would she want to date someone like Swae Lee that has this history of volatile…?
Onika: Because he's cute?
Kizzy: Did you or did you see that Bobby Brown documentary where he talked about his life, or it might've been, no, it was New Edition. Back in the day, Bobby Brown, you know, was the bad boy. Janet Jackson was the good girl and they had a thing going on. And when…I remember when, I remember when I watched it, I was like, wow, what, Bobby Brown got Janet Jackson! It was crazy. But that's the thing like you come from, you're supposed to be a good girl. You got Reverend Run as your uncle or whatever. You're supposed to be like this good girl, but you got this little edgy guy and there's, there's a pull there. So, I'm not surprised. I don't think it's really, beneath her. I just think caught up…
Onika: And, Russell Simmons was a hood dude, so she probably likes hood dudes. You know what I mean? Now, he's all yogi. But he wasn't always like that.
Kizzy: Yeah, Vegan. I don't think it's surprising. I don't think it's surprising at all. And hopefully she, they're not gonna start throwing hands 'cause that would be like a mess. Please don't do that.
Onika: Nobody throwing hands.
Keisha: Well, Ming (Aoki) is about to go to Harvard. So soon she'll have her head in the books, hopefully in and not a dropout after the first…
Onika: Look how we're smiling, we're like, Onika don't say it. Onika, don't say it. I'm not.
Keisha: Well, they say, good girls like bad boys.
Onika: Why do good girls like bad guys? Okay.
Last modified onWednesday, 07 August 2019 14:00