Shopping Night Out: An Event to Benefit Beating Cancer in Heels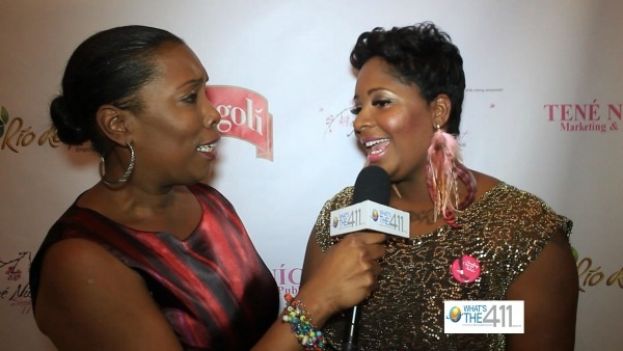 Photo Credit: Alexis Williams/What's The 411 Networks
What's The 411TV reporter Barbara Bullard discusses Shopping Night Out with its founder, Nikkia McClain
VIDEO: Nikkia McClain creates fun shopping extravaganza that brings out celebrities and shoppers to raise money to support Beating Cancer in Heels
Nikkia McClain, the smart, savvy, and gregarious founder of Tene Nicole Marketing and Public Relations, spoke to What's The 411's Barbara Bullard about Shopping Night Out, Marlena Ortiz, Beating Cancer in Heels, and her vision for the company.
A wonderful philanthropic event, Shopping Night Out brought out shoppers, models, actors, producers, and reality TV stars alike to benefit the organization, Beating Cancer in Heels.
Two years ago, Nikkia McClain, Founder, Tene Nicole Marketing and Public Relations, conceived Shopping Night Out to raise money for the nonprofit, Beating Cancer in Heels, which was created by 28-year-old breast cancer survivor, Marlena Ortiz.
Beating Cancer in Heels is an organization dedicated to the fight against cancer while encouraging women to embrace their inner and outer beauty, while never forgetting to embrace their femininity.
The evening included a full night of a signature "PINK" cocktail sponsored bar by Fragoli, passed hors d'oeuvres provided by The Watt Company, entertainment, a beauty bar, and gifting items to complement shopping with prominent retailers. In addition, LASIO®, Inc., the evening's prime sponsor, had an on-site hair studio providing amenities and expert advice on its HYPERSILK and Rio de Keratin Product Lines for celebrity guests.
Guests featured in this story's accompanying video include: Beating Cancer in Heels Founder Marlena Ortiz; Nadine Ramos, CEO and Founder, Lasio, Inc.; Neda Hakakian, VP Merchandising & Professional Services, P.Luca4Barami; Celebrity Makeup artist, Priscilla DiStasio; Nigerian actor and producer Jim Iyke; Celebrity Hairstylist Janel Smith for Cocoa Mane; Reality TV star Ramona Rizzo; and David, Manager of Je T'Aime Shoes.
Shoppers had the opportunity to buy clothing from retailers such as My Girlfriend's Closet, shoes from Je T'Aime Shoes, cosmetics from GlamChicks and jewelry from Angels & Divas, and Smooch, all for a worthy cause.
All guests received a gift bag filled with all types of goodies from various sponsors including Lasio.
Last modified onSaturday, 26 November 2016 01:32