Sabine Lisicki Surpasses Venus Williams with World's Fastest Serve
Photo Credit: Bianca Peart/What's The 411 Networks
Sabine Lisicki at the US OPEN in Flushing, Queens, NY
July 29, 2014, marked a historic date for the Women's Tennis Association (WTA) where Sabine Lisicki from Germany clocked the world's fastest serve among women at 131 MPH in Stanford, California.
Guinness World Record awarded Lisicki with a certificate on Friday, August 22 before the 2014 US Open kicked off. At the time when she set the record, Lisicki didn't realize her serve was that fast.
"I felt that I hit it very hard and good but it was only when I heard the crowd that I realized it was 131 (MPH) when I looked at the board."
As with any tennis player, Lisicki's main priority is to serve the ball inbounds.
"It's a natural thing. I just throw up the ball and hit it as hard as I can but not really thinking about it because it obviously has to go in so that's the main priority."
Lisicki is very excited about her world record and added: "I had 130 (MPH) serve about four years ago but it wasn't an official one, so I'm very happy that this one's official."
The previous record was set in 2007 by Venus Williams, who clocked in at 129 MPH during the US Open against Alla Kudryavtseva from Russia. This was the same year Venus won Wimbledon. Williams still holds a separate record where she became the lowest-ranked (no. 31) and lowest-seeded player (23 seed) to ever win Wimbledon.
Lisicki opened against a qualifier, Françoise Abanda from Canada. Abanda is a young star, 17 years old, whose parents hail from Cameroon, Africa. This is Abanda's debut at the senior level in the main draw of the US Open, ranking in at her career high, number 205.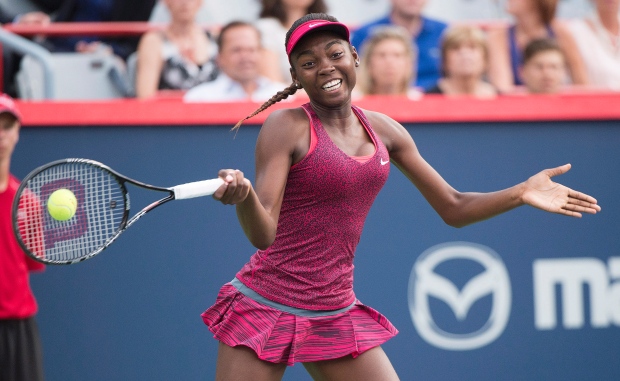 Canadian tennis player by way of the Cameroon, Francoise Abanda. Photo Credit: The Canadian Press/Graham-Hughes
Williams, who is 34 years old, knocked out an even older opponent, 43-year-old Kimiko Date-Krumm from Japan in the first round in a three-set thriller.
We'll look forward to seeing milestones reached in this tournament whether it's Lisicki meeting or surpassing her current serving speed record, Taylor Townsend shocking the world by defeating Serena Williams, or perhaps, Venus Williams winning the US Open.