How digital music streaming has helped and hurt new album releases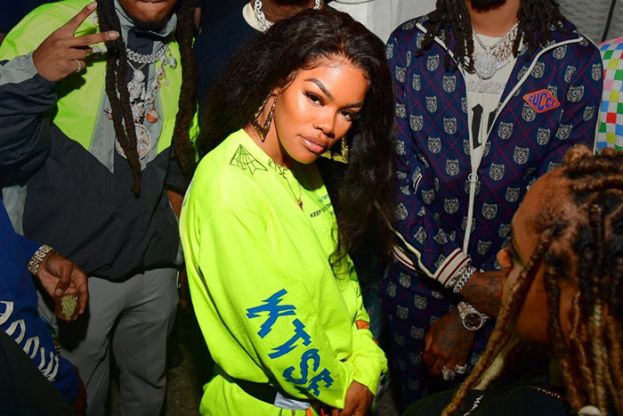 Photo Credit: Unknown
Songwriter, dancer, choreographer and, R&B and hip-hop artist, Teyana Taylor, promoting the release of her second studio album, K.T.S.E.  
Digital Album Streaming: a beautiful boost or plummeting pitfall? Well it depends on how you use it
The first half of 2018 has seen album releases from the likes of J. Cole, Nipsey Hussle, Tory Lanez, Nas, Kanye West, Beyoncé, and Jay-Z; all with various rollout plans to the lack thereof. Nicki Minaj announced her album, Queen, in May for a June release. Beyoncé and Jay-Z released Everything is Love seemingly out of nowhere, and then there were albums that dropped under an executive producer who didn't seem to give much notification to the artists themselves, cough. (I'm talking about... yes, you guessed it! Kanye West.)
Digital streaming of music has given both the artist and consumer a one-stop shop. Artists no longer need to advertise on billboards, bus signs or conjure up elaborate marketing plans. Music executives no longer have to announce albums and songs months in advanced and retail stores are not stocked to capacity with copies of physical CDs needed to match shopper consumption. Depending on the caliber of artist that you are, you don't even need to bait your audience into wanting your album with pre-released singles. All you have to do is make sure it's available on all streaming platforms on the day that you say it will be. Or, you don't even need to say a day.
I'm guilty of crediting Queen Bey for bringing the art of the hasty release into the genre of R&B and Hip Hop. Many people, like me, forget that it was actually her husband, Sean Carter, who started the trend. Released on July 4, 2013, Magna Carta Holy Grail took to listeners ears after only being announced two weeks prior in a subtle commercial for Samsung that premiered during the NBA Finals.
VIDEO featuring Jay-Z promoting Magna Carta Holy Grail
"All these other things have been introduced to the world -- the internet and all this technology, and all these things. How do we operate within all that? We don't have any rules; everyone's trying to figure it out... that's why the internet's like the wild, Wild West. We need to write the new rules for what's going on right now... The one thing I wanted to do was have that fireplace or radio moment... I wanted everyone to hear the album at one time."
Unfortunately, Samsung lost out on the ordeal when the app they paid for to stream Jay's album crashed and the project was almost instantaneously available on other digital streaming platforms. Nonetheless, the attempt was seen.
What we'd call an L, Beyoncé followed suit with and turned into a W, a surprise release of her self-titled visual album that took the world by complete force. Beyoncé was exclusively available on iTunes for its first week, was accompanied by visuals for each track, earning Yonce' over 80,000 copies sold in the first three hours and ultimately a number one album debut. (Queen Bey also saw similar success with her release of Lemonade, accompanied by a full-length film where Hov's, iced tea, 4:44, debuted at number one with various short films to accompany each track. The most successful of which, "The Story of O.J.", reached over 70 million views.
But the ability of Beyonce and Jay-Z to make us look is due largely to the equity and caliber of artistry they've come to be known for, not just in the exclusivity of their work alone. As listeners and consumers, we have a solid expectation of the quality of work they'll deliver and therefore have no problem rushing to whatever medium they decide to release from.
However, many artists are not so privileged. Even prior to Beyonce's self-titled visual album release, Kanye West tested the waters with My Beautiful Dark Twisted Fantasy's 34-minute film, Runaway, amassing over 22 million views to this date, and decided to take that same triumphant energy and innovation into his February 14, 2016, release of The Life of Pablo. The result was not so great. The rollout of the album was plagued by constant title changes, routine Kanye twitter rants, and revised track lists. The only thing that seemed to be happening right was that West had a Yeezy Season 3 fashion show planned at Madison Square Garden where he would premiere the project for all those in attendance, right? Wrong. The album premiered three days later on Tidal, with alterations unheard of by the crowd in attendance at Madison Square Garden. Even months after the release, the album was still undergoing changes with its finalized version coming on April 1, 2016.
And now here we are. The Carters' surprise release, Everything is Love, and Kanye West announcing and embarking on his executive delivery of five albums in five weeks. The results have been everywhere from successful to... not so much. Pusha T's Daytona soared in the midst of rap beef between himself and Drake. Ye was welcomed by a lukewarm reception, but still managing to debut at number one, while Kids See Ghosts featuring Ye and Kid Cudi was quietly released and debuted at number two while NASIR featuring Nas peaked at number five.
However, the rockiest rollout yet was Teyana Taylor's K.T.S.E. The singer took to Big Boy's Neighborhood on Power 106 to explain that the album will be re-released due to label miscommunication and samples not being cleared in time. Acknowledging that songs on the album were literally cut short, as well as the label's mistake in setting a release date and listening experience all before the album samples were even cleared.
VIDEO: Teyana Taylor on Big Boy's Neighborhood
Teyana has taken the public misstep like a champ, acknowledging the helpful critiques she's received from those who have listened thus far. A similar attitude is now generally required of artists in the digital age of album streaming, its boundless limits should remind artists to propel themselves into a new realm of creativity and innovation. Ultimately instilling in them the ability to embrace the body of work that they have while remembering, it's not fully what you do but how you do it.
- Jadriena "Jade" Solomon
@24Jaded