A Beautiful Day in the Neighborhood, really is beautiful | What's The 411 Movie Review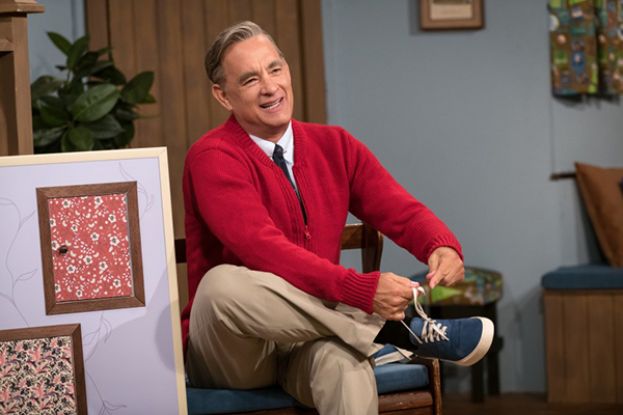 Photo courtesy of Sony Pictures Releasing
Tom Hanks as Mr. Rogers in the feature film, A Beautiful Day in the Neighborhood.
When Esquire magazine writer Tom Junod's editor assigns him to write a 400-word piece on Public TV star Fred Rogers of the Mr. Rogers program, their meeting is supposed to be a brief interaction. But instead, it turns into a complex, long-term relationship between the two men. Two-time Oscar winner Tom Hanks plays Mr. Rogers and Matthew Rhys, plays Tom Junod, the journalist who wrote the profile of Fred Rogers in Esquire magazine, on which this feature film is based.
I wasn't sure what to expect with A Beautiful Day in the Neighborhood. Thinking back to my childhood, I saw Mr. Roger's Neighborhood as a hopelessly sappy program that seemed more like a satire than an actual TV show. But this film is substantive, sometimes compelling, but always entertaining. It gets a See It! rating.
From the beginning writers, Micah Fitzerman-Blue, Noah Harpster, convey where Fred Rogers' priorities lie. When a Make-a-Wish Foundation kid visits the set, Rogers leisurely chats with him and his parents, completely indifferent to the resulting delay in the filming schedule. In other words, people are more important than timetables. Later, Rogers meets the journalist who has a difficult relationship with his father, the TV host makes resolving the issues between the writer and his dad a high priority.
This movie also delves into the lives of both men. The seemingly perfect Rogers acknowledges some issues with his two sons. Yes, Rogers had children, despite definitely being on the list of People We Can Never Imagine Having Sex. He was also a vegetarian even though some thought he was a vegan.
This film is warm and laden with positive messages, without being overbearing, preachy or . . . sappy.
Tom Hanks just seems to be incapable of poor or even average performances. He authentically portrays Rogers as a mellow, kind, yet very real person. Matthew Rhys embodies Junod as a complex, wounded individual who's trying-his-best to be a good husband and father – and ultimately a good son.
A Beautiful Day in the Neighborhood gets an A- for cast diversity. It is richly diverse. African American actress Susan Kelechi Watson plays Junod's wife in the movie, although his real-life wife of over 30 years is Caucasian. And I have mentioned before casting directors can increase diversity by including people of color in minor roles and background scenes. This film does just that. However, the minus is due to the lack of diversity among non-African descendants. There are few Hispanics or Asians despite that there are several Asian Americans producers of this film.
A Beautiful Day in the Neighborhood is rated PG for some strong thematic material, a brief fight, and some mild language and is 108 minutes in length and gets our highest rating, See It!