Detroit – See it now or visit later. [MOVIE REVIEW]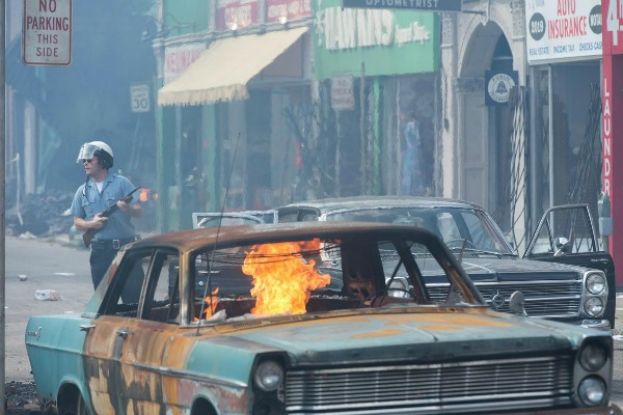 Photo Credit: Francois Duhamel and photo courtesy of Annapurna Pictures.
A riot scene in the film, Detroit
In 1967 Detroit, an illegal "party" which includes drinking and gambling leads to the mass arrest of the attendees and sets off five days of rioting in Motown. The police raid the riot area. When they hear shots originating from a nearby hotel, they believe the shots are directed at them, so they converge on the lodge with dire consequences for the young black men and the two white women staying there.
Based on a true story, Detroit attempts to tell a sad segment of Motown's history. Unfortunately, the filmmakers fail to deliver a product worthy of this important event.
First, the screenwriter, Mark Boal, neglected to lay a foundation of the conditions in Detroit that set off the riots. The story begins with the police raid of a party, which is led by a black detective with the support of a black informant. The uniformed cops, who were mainly white, are generally restrained in their dealings with those arrested.
To any filmgoer unaware of the conditions of the City's black residents in the 1960s, they might reasonably believe that what they saw didn't merit five days of rioting. Detroit doesn't fully address the root causes of the riot: high unemployment, governmental neglect of communities of color and the overall sense of hopelessness that many in America's urban areas felt at the time.
The film does go into painful, exacting details of the brutality – and killing – which the police committed against the hotel guests.
Another flaw is that Boal, and director Kathryn Bigelow, did not authenticate the characters' dialogue with 60's lingo. Phrases like the "The Man" which referred to authority figures – white men - who maintained the corporate, legal and political status quo was widely used during the 1960s, even on TV, was not uttered in this film. "Ticked Off" which can still be heard today meaning angry didn't make the cut. These and other rich and popular 60's slang were not included in the film, which took away from Detroit's authenticity.
However, one exchange was amusing. When a white cop asked one of the white women what she was doing in a hotel room with a black guy, she responds: "Wake up Man! It's 1967!"
The cast, diversity-wise, reflects Detroit in the 1960s when almost 100% of the city was black and white.
Ultimately, you should see Detroit. I'll leave it to you to decide to See It now or Rent It later.
Detroit is two hours and 23 minutes – which is much too long, particularly when the film doesn't take the time to describe the socio-economic-political climate of Detroit in the 1960s and provide nuance through language.
Detroit is rated R for extreme violence.